Monerium raises seed round from ConsenSys, Crowberry Capital, and Hof Holdings to issue e-money on blockchains
2019/01/11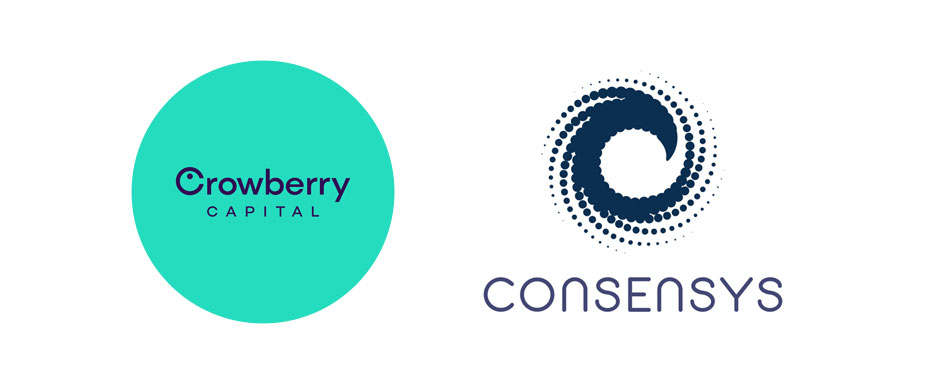 Seed round lead by Crowberry Capital and ConsenSys
Reykjavik-headquartered Monerium today announces the closing of a seed funding round led by the Nordic VC fund, Crowberry Capital, with the participation of NY-based blockchain software technology company, ConsenSys, and Hof Holdings, bringing total funds raised to $2M (USD).
Featuring senior team members involved with rebuilding Iceland's financial services following the 2008 crash, Monerium's objective is to make currency accessible, secure, and simple to transact. By issuing asset-backed, redeemable, and regulated e-money on blockchains through a licensed institution, Monerium aims to make blockchains more relevant and useful to mainstream financial institutions, corporations, and consumers.
Prior to the seed round, Monerium completed and submitted an application to become a licensed financial services company in the European Economic Area through a wholly-owned subsidiary. The proceeds of the seed round will be used to accelerate the development of Monerium's services.
Sveinn Valfells, CEO of Monerium, comments:
"Monerium has a clear vision to bridge fiat money and blockchains. It was when working with ConsenSys shortly after the launch of Ethereum, that we first identified e-money as a key catalyst for mainstream blockchain adoption. This investment, and the continued partnership with ConsenSys - alongside the backing from Crowberry Capital and Hof - is a clear indication that we are on course to achieve our goals.
"Becoming a licensed financial institution is the next key step for Monerium in order to assume full responsibility for and control over the complete range of functions required to issue e-money on blockchains: asset management, compliance, risk management, and product development.
"Drawing on our extensive experience of financial services and technology, we are confident that we can enable our customers to store and transmit fiat funds safely and efficiently on blockchains, permissioned or permissionless. Jenny Ruth, Founding Partner of Crowberry Capital, comments:
"We are thrilled to be backing cutting edge technology that is democratising financial services and making finance safer in a regulated and redeemable way. We remain impressed by the team that has in-depth understanding of the power of blockchain and a clear vision of how it can benefit the future of finance." ConsenSys' investment in Monerium is one of the first investments facilitated by Coven, a new, open, co-venturing initiative at ConsenSys. "ConsenSys is dedicated to supporting companies building the infrastructure needed for a more decentralized and self-sovereign future. Monerium's work in tokenizing currencies across Europe is an exciting endeavor we're glad to be a part of," said Andrew Keys, Co-Founder of ConsenSys Capital. Monerium was established in September 2016 for the purpose of bridging fiat money and blockchains. The idea for the company was first conceived when the founding team was commissioned by a Nordic bank to author a report on 'Blockchain and the future of finance', in which it listed use cases of blockchains in traditional finance, and analysed the effects of distributed ledgers on the banking sector.
In creating the report, the founders identified fiat money as a key catalyst for mainstream blockchain adoption and included a use case for issuing fiat money on the Ethereum blockchain, designed in collaboration with ConsenSys. The founders, realising the potential for this blockchain model, decided to pursue it as a business, and Monerium was born.
With a head office in Reykjavik, Iceland, the Monerium founding team of Gísli Kristjánsson, Hjörtur Hjartarson, Jón Helgi Egilsson, and Sveinn Valfells, has expanded the company to now include fourteen people based across Iceland, Sweden, the US and UK.
The team contains seasoned entrepreneurs with experience in fintech, cloud services, central banking, asset management, software development, and financial regulation and supervision. The Monerium founders first transacted bitcoin in 2011 and subsequently participated in the Ethereum pre-sale. In addition, they have authored reports, published academic papers, smart contracts, and given numerous talks and interviews on blockchains and cryptocurrency.
Through activism, lobbying, and public service, several members of the Monerium team were also key participants in the rebuilding of Iceland's financial services, in the aftermath of the systemic crash of 2008.
Jón Helgi Egilsson, chairman of Monerium and former chairman of the Central Bank of Iceland, comments:
"In Iceland in 2008, a centralised financial system collapsed and almost caused a systemic economic meltdown. The 'too-big-to-fail' banking institutions were a single point of failure for deposits, lending, and payments. When compared to blockchains, the centralised banks which caused the crisis, are rooted in opposite philosophies of how we organise institutions and societies. They represent different worldviews and different risks to customers, investors, and society.

"Despite what happened in 2008, global finance is still largely dependent on centralised institutions and systems, and there remains a distinct lack of competition. We believe the solution is to bring about greater decentralisation. By becoming an asset-backed, regulated, and redeemable e-money provider for blockchains, Monerium will help to decentralise global finance, which will offer customers more options to store and send e-money, while simultaneously supporting financial stability."
Blockchains are driving innovation in financial services. Ethereum pioneers a new category of blockchains that support smart contracts and protocols, which enable programmable and atomic transactions of digital assets. Almost any form of security currently traded in capital markets can be issued and transacted as a smart contract on a blockchain. Smart contracts on blockchains also support programmable transactions which enable new forms of automated financial services.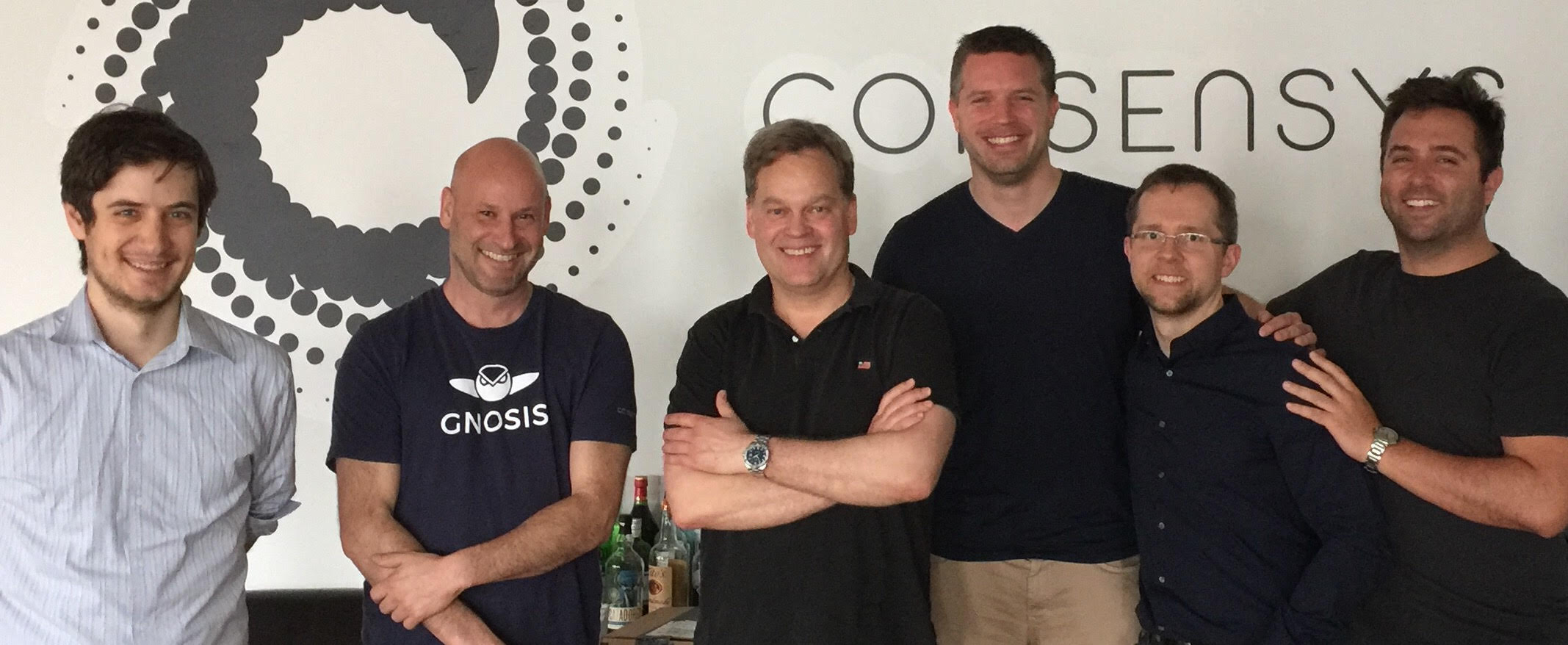 Monerium and ConsenSys team-members at ConsenSys office in Brooklyn, NYC, March 2016, developing fiat blockchain use case. From left: Igor Lilic, Joseph Lubin, Jón Helgi Egilsson (Monerium), Rouven Heck, Christian Lundkvist, and Andrew Keys.
Monerium (monerium.com)
Monerium was founded in September 2016 in Reykjavik, Iceland, by its chairman Jón Helgi Egilsson, CEO Sveinn Valfells, CTO Gísli Kristjánsson, and COO Hjörtur Hjartarson. The experience of the founding team covers sectors including banking, biotech, central banking, cloud services, fintech, mobile, adtech telecoms, and venture capital. The company counts a team of fourteen people and in addition to its headquarters in Reykjavik, it has a presence in Sweden, the US and UK. To date, the company has raised $2M in funding from investors including ConsenSys, Crowberry Capital, and Hof Holdings.
ConsenSys (www.consensys.net)
ConsenSys is a global formation of technologists and entrepreneurs building the infrastructure, applications, and best practices to enable a decentralised world. The ConsenSys "hub" coordinates, incubates, accelerates, and spawns "spoke" ventures through development, resource sharing, investments and the formation of joint ventures. ConsenSys is dedicated to growing the Ethereum-based blockchain ecosystem through various domains including ConsenSys Solutions, ConsenSys Capital, ConsenSys Labs, and ConsenSys Academy. For more information, please visit www.ConsenSys.net
About Coven (coven.vc):
Coven is a ConsenSys Formation building an open venture investing platform. More information can be found at Coven.vc.
Crowberry Capital (www.crowberrycapital.com)
Crowberry Capital is a Nordic venture fund that invests in young technology companies that aim to scale internationally. The fund was established in July 2017 in Reykjavik, Iceland, where Crowberry Capital also has its headquarters. The founding partners behind the firm, Helga Valfells, Hekla Arnardóttir & Jenný Ruth Hrafnsdóttir all have extensive venture capital experience, having managed over 51 technology start-ups, negotiated a total of 15 exits and made 17 seed investments.
Hof Holdings
Eignarhaldsfélagið Hof ehf is a privately held investment company owned by the brothers Jón Pálmason and Sigurður Gísli Pálmason. Hof Holdings is focused on retail and real estate investments and owns and operates IKEA franchises in Iceland and the Baltics.
For media enquiries please contact:
Monerium - Andy O'Keeffe / Amanda Wirhed: press@monerium.com
ConsenSys - PR@ConsenSys.net

Please visit https://monerium.com/press for company facts, logos & graphic assets